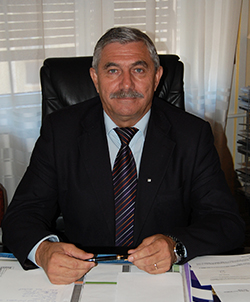 Dear students,

A new academic year begins! With hopes, preoccupations and especially the guaranty that what you learn in our School will be the foundation of what you will be doing in your professional and social career.
For our juniors, even if I believe that their choice considers this fact, I want to emphasize that the Politehnica University Timişoara is nowadays one of the biggest and most renound universities in Central and South-East Europe. The university is the only university from West and South West of Romania which is classified in the first valoric category, that of the universities which have an advanced research and education.
I believe that a true school must follow solid educational principles and to create a solid foundation for lifelong development for students. This is the reason why Polytechnic is making every effort to have qualified graduates, but especially adaptable to changes and creative in generating new ideas.
Timişoara Polytechnic School is a true school. Being an engineer of the Politehnica Timişoara soon became a desired, admired and respected business card. Student training, future engineer - Victor Vâlcovici, one of the exceptional rectors of the beginnings of the Timişoara Polytechnic School, said -"We designed it with an emphasis on its technical training, for which we cared outside of the teaching staff and provide the best-equipped laboratories and places of practice in industries" but "I have sought for it to go hand in hand with his spiritual preparation and bodily strengthening". A graduate of the School had to be "endowed" with qualities that should not lack seriousness, diligence, personal dignity, judgment, and the value of the given word.
So, in nearly 100 years, more than 125,000 graduates have carried on the spirit of Politehnica, they have become specialists and have contributed crucially to the development of Romania's research and economy.
Politehnica University Timisoara impresses today, after 97 years of existence, by its many amphitheaters and classrooms, modern laboratories, student residences, canteens and student restaurants as well as through its modern sports complexes unequalled in Romania and in the neighboring countries.
Politehnica, today, at the beginning of the academic year 2017-2018, awaits you with a Library inaugurated in 2014, unique in the Romanian educational system.
The Politehnica University, nowadays, presents itself with a new system of practice in companies that allow a better gathering of practical competences and a good insertion on the labor market.
Our graduates engage immediately after graduation. The last statistic shows that more than 80% work as an employee with higher education.
The strength of an institution like Politehnica gives you the chance to study abroad without having to give up school or to make special financial or material efforts. UPT has over 220 agreements with universities around the world through the well-known Erasmus + programs, and over 120 framework agreements and other mobility programs are being or will be implemented in UPT based on bilateral agreements with foreign universities or different programs mobility and financial mechanisms such as EEA (SEE), CEEPUS, AUF, DAAD, etc.
Politehnica University, nowadays, encourages you, to be prepared all the time, with scholarships for education performances, according special scholarships and awards from own income to those who remark themselves in the research areas and representing the university in different scientific and cultural events or sportive contests.
Today, Politehnica invites you to become active citizens, solidarity with the needs of those around you. We promote volunteering in the CCOC teams, the Communication and Imagine Department, TeleUniversity. You are welcome to represent that spirit of Polytechnics by participating in bands and musical groups - Vest Cover Phoenix, performance sport, soccer at the level of the league I, II or municipal league - University championship, handball, girls volleyball, low ground football, tennis, and padel.
Politehnica University offers you free access to all of the universitary places, research places and on its own sports complexes. Also, the students meal is granted with 50% by the UPT restaurants.
In times like these, we believe that, despite all shortcomings and obstacles, the values that have defined our school and its purposes are: liberty, equality, solidarity, multiculturalism, responsibility, professionalism and academic performance, which will be a perpetual example to be followed.
In the same time, our university needs dynamism to adapt to the changes of the world. Therefore, dear students, our thoughts turn towards you.
We strongly believe that you have all the needed qualities, the wish and the will to succeed!!
I wish you an academic year full of accomplishments!
Prof. Eng. Viorel-Aurel ȘERBAN, PhD
Rector of Politehnica University Timisoara